Giving Back with an Endowed Scholarship for the JoAnne Gay Dishman School of Nursing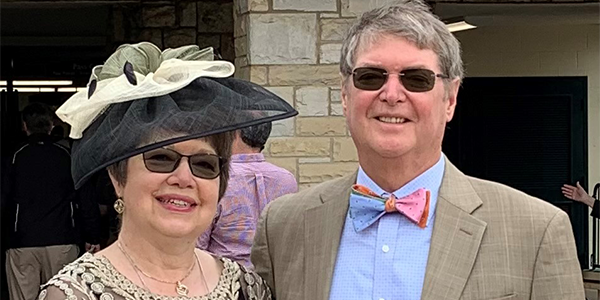 Lamar University alumna, Jane C. K. Fitch, MD retired in 2019 from a successful career as a physician, teacher, administrator, and advocate. She credits the success of her demanding, high-maintenance, and multi-faceted career, at least in part, to the education she received from Lamar University. Dr. Fitch and her husband, Johnny E. Fitch, Jr., PE, MBA, have made provisions in their estate plans for a gift to establish an endowed scholarship for the JoAnne Gay Dishman School of Nursing.
Dr. Fitch was president of the first class of nurses to receive bachelor's degrees at Lamar University in 1978. She noted the members of that first class realized they were setting the stage for the future of nursing at Lamar University. The shared sense of responsibility to do their part to help ensure the success of the nursing program led to lifetime friendships.
After graduating from nursing school, she worked as a nurse in the intensive care unit at St. Elizabeth Hospital in Beaumont to gain experience before attending nurse anesthesia school at Baylor College of Medicine in Houston. Desiring additional education and training, she went on to complete medical school at the University of Texas Health Science Center in Houston and an anesthesiology residency and fellowship at the University of Washington Medical Center in Seattle.
She remained in academic medicine from that point forward. Dr. Fitch moved from a faculty position at Yale University to a division chief and vice chair at Baylor College of Medicine before joining the University of Oklahoma College of Medicine in 2001, where she held the John L. Plewes Chair and served as professor and chair of the Department of Anesthesiology, chief of anesthesia service and medical director for perioperative services.
Throughout her career, Dr. Fitch advocated for the development of new and better legislation and regulation impacting the practice of medicine. She made sure physicians' voices were heard by state and national political leaders.
From as far back as she can remember, Dr. Fitch's parents emphasized the importance of education and choosing a profession that allows you to give back to society. She also received steady encouragement and financial support from her high school sweetheart and husband, John as she moved through nursing school, nurse anesthesia school and medical school.
The Fitches agreed, "We are incredibly proud of the stellar reputation of the JoAnne Gay Dishman School of Nursing and are pleased to establish the Jane and John Fitch Scholarship in Nursing with a gift from our estate."